Browse the event description, event schedule, and presenter information on the 
TEC Expo 2017 webpage
.
Photo Gallery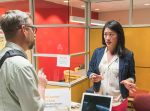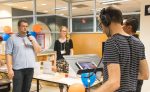 With TEC Expo 2017 behind us, it is time to reflect. TEC Expo, or Technology Enhanced Classroom Expo, was created so faculty, students, staff, and guests can learn from each other. Each year we bring the Faculty of Education community together in the Scarfe foyer to share our biggest success stories and challenges when it comes to teaching with technology. This year marked the fourth TEC Expo, and as with every year we tried to make it a more inclusive, accessible, and innovative event. We incorporated live video streaming for the first time, and ETS' very own Bill Pickard conducted interviews with each presenter. All the videos can be viewed on the
Professional Development and Community Engagement Facebook page
. Hundreds of people joined us by watching live or after the event. The event was also live-tweeted using the
#TECExpo2017
hashtag. Another innovative addition to the event this year was the
Emerging Media Lab
, or EML. The EML is an exploratory space for people to discover the possibilities of virtual and augmented reality. If you are UBC faculty, student, or staff and didn't get a turn in VR during TEC Expo, you can drop in on Tuesdays and Thursdays from 12:00 – 1:30pm at Neville Scarfe Building Room 1. The EML will be located in Scarfe until the end of August. We continued an innovation from the 2nd and 3rd TEC Expos with a second day dedicated to Educational Making. There were opportunities to learn about food, knots, jewellery making, coding, robots, weaving, book making, button making, creating augmented reality experiences, experiencing a virtual stage, and the UBC seed library. It was an amazing array of educational makers sharing their experiences. As always, it was a joyous occasion and our special honour to host the Faculty of Education's fourth annual TEC Expo. We hope it helped you learn about new and emerging ways of teaching and learning, and facilitated constructive conversations about pedagogy. The presenters were an inspiration, and if you did not have the privilege to attend we encourage you to watch the archived live stream videos on the
PDCE Facebook page
. Learn more about the presenters on the archived
TEC Expo 2017 site
, and see videos from the event below!
Welcome to TEC Expo 2017 Day 1!
Check out our closing remarks on TEC Expo 2017 Day 2!
Interested to learn more?
Keep up to date on ETS events throughout the year by visiting our
events calendar
! You can also reach out to ETS by contacting us at 604-822-6333 or
ets.educ@ubc.ca